Winter Sports Term 2,3, 2017
St Mary's Catholic Primary School, Rotorua
2017 Winter Sports Information Term 2,3 2017.
Winter sports are fast approaching so it's time to start recruiting players for our St Mary's teams including Netball, Miniball, Hockey and Football. For those wishing to play rugby, St Mary's have traditionally channelled players to the Marist St Michaels Club.
Below is information regarding each of these sports. If your child would like to participate in Miniball or Hockey please complete and return the winter sports registration form. Additional copies are available at the school office. Completed forms and payment need to be returned to the school office by Friday 7th April 2017 so we can get teams sorted before the school holidays.
No payment = No play.
School sports are a positive and fun way to enable children to develop new skills, meet new friends and strengthen our school community. We are always in need of coaches for our sports teams, no coaches = no teams, so if you are able to help coach or know of people who can assist, please let Trudy James, our School Sports Coordinator know sports@stmarysrotorua.school.nz or mobile 021555290.
Netball
The 2017 netball season begins on Saturday 6th May with a grading day.
The netball courts are located in Westbrook off Malfroy Road.
Due to the complexity of (7 aside) netball it will be offered to girls years 5,6. Year 0-2 will play 4-4, Monday's afterschool. Year 3-4 will play 5-5 known as ANZ Future Ferns Netball on Saturday morning's. Netball cost for the season year 5,6 is $48.00 per player. Year 0-4 $30.00 per player. Once teams are set up netball players will need to come to the school office to collect their St Mary's uniform. On court players will need to wear sports shoes and black underwear / bikepants. Netball registrations need to be done online. To register your child(ren) go to the following link Netball Registrations
Hockey
Primary Schools hockey begins on Saturday 6th May with an opening day tournament. All matches are played on Saturday mornings on the Astroturf at Smallbone Park on Devon Street.
Hockey fees will be $45.00 for Years 1–4 players and $60.00 for Years 5-6 players. In addition, players will need a hockey stick, mouth guard,
running shoes and shinpads. For games hockey players need to wear their school PE Shorts and St Mary's sports socks – both available from the school uniform shop. School hockey shirts will need to be collected from the school office and signed for.
Football / Soccer
Football is played at Puarenga Park adjacent to Te Ngae Road on Saturday mornings. Football games players need to wear their school PE Shorts and St Mary's sports socks – both available from the school uniform shop. School football shirts will be issued once teams are finalised. Subscription fees this year are $50.00 for 5th – 7th grade players (born 2010 –2012) and $60.00 for 8th grade and older players (born 2005 – 2009).
Football registrations need to be done online. To register your child(ren) go to the following link Football Registrations
Miniball
Miniball games begin on Wednesday 3rd May for Mini's and Midgets whereas the Juniors are Friday 12th May. Games are at the Sportsdrome next to the Energy Events Centre behind Government Gardens. Cost for miniball is $35.00 per player plus $1 at the door each night. Our miniballers will be issued with sports tops and need to wear their school PE shorts and sports shoes.
Rugby - Marist St Michaels Junior Rugby – Registration
Marist St Michaels Clubrooms, Te Ngae Road, opposite Countdown supermarket. To register your interest go online via the website on www.stmikesjab.co.nz
2017 registration fees are; $45 for one player; $35 each for two players
one family; $30 each for three players from one family; $25 for Under 6's & 7's. Fees payable by cheque or cash only. Socks will be available to purchase through Marist.
Coaches
Coaching is a great way to enable our children to learn the ropes and develop skills in their chosen sport as well as a fun way to get to know our St Mary's community.
Support and advice for coaching in the various sporting fields will be available
prior to and throughout the term. Without coaches our children are unable to
participate in these fun, character building activities.
If you are interested in helping out with coaching or as a team manager we'd
love to hear from you – please complete the relevant section on the Winter
Sports registration form and on the online football registration form.
Fees & Uniforms
Sports fees are payable at the school office. Alternatively you may establish an automatic payment account with the school, in liaison with Mrs Dalton or Mrs Mason and can add sports fees to this. Payments can also be made online direct to the school's bank account ANZ 06 0209 0229658 00 please ensure you use your child's name as ref and sports played as the code. This year Football may be paid online when you are registering your child through the Sportspulse Website. There is a credit card surcharge of 3.9% for this service
St Mary's school uniform shop sells our maroon PE shorts for $22.00 each and winter sports socks for $13.00. Optional Netball ankle socks for $5.00
Fair Play Code of Conduct
All students and parents are expected to sign up and abide by the Fair Play Code of Conduct accompanying sports registration forms. Representing St Mary's Catholic Primary school in any sport is an honour and we ask that students and parents alike demonstrate good sportsmanship, encouragement and support to coaches and players throughout the sporting season.
For more information about winter sports please contact:
Trudy James, School Sports Coordinator, email sports@stmarysrotorua.school.nz
Football Teams - Term 2,3 2017 - NTBA
Netball Teams - Term 2,3 2017 - NTBA
Miniball Teams - Term 2,3 2017 - NTBA
Hockey Teams - Term 2,3 2017 - NTBA
Registration Forms
2015 - BOP Rugby Seven's Invitational Tournament
Te Wero Matauranga Football Tournament June 2015.
Congratulations to our St Mary's Spartans who played football against Year 7 and 8 kids. Our Spartans played fantastically and placed an whopping 4th place overall
Rippa Rugby 2015
What an amazing day with some super talented children.
A massive thank you to the parents who were able to come down and assist your support was fantastic.
This year, the children representing St Mary's were
Year 3 and 4
Noah Tavendale
Don Telfer
Ryan Eggers
Jayden Elmiger
Nevan Winmill
Arihana Ngawhika
Delana Trask
Shekainah Maxwell
KJ Waititi
Teuila Schuster
Year 5 and 6
Joshua Tavendale
Brooke Mitchell
Daniel Butterworth
Layton Waititi
Cailyn Trask
Poppy Martin
Charlie Russell
Misty Waititi
Polly Wakefield
Eliott Bourke-Palmer
Cross Country
Cross Country 2015
Cross Country 2015 - Central Bay of Plenty
Congratulations to all the year 4, 5 and 6 children involved in the Central Bay of Plenty Cross Country this race week. Josh Tavendale, Cailyn Trask, Charlie Russell, Claire Hughes, Caitlyn Flavell, Taeo Mortimer, Harold Rounds, Koby Lett, Kate Liley, Poppy Martin, Zac Hall, William Greentree, Mary Schuster, Delana Trask, Sarah Rush and Lina Stahlhut, all gave 100% to the run and their behaviour was exceptional. A special congratulations goes to Poppy Martin who won her race convincingly, also Delana Trask who was placed 5th and Koby Lett, placed 12th. A huge thank you to the parent helpers without whom our kids would not be able to participate in these events: Grant Martin, Neil Rush, Dana Lett, Jude Ferguson and Rachel Schuster
Cross Country 2015 - Bay of Plenty
The Bay of Plenty inter-middle schools Cross Country Championships were held At Woodlands School on Tuesday the 23rd of June.
Just under 400 children from all over the Bay of Plenty came together to run for the right to be the best Cross Country runner out of all the Primary/Middle schools in the Region. Congratulations to Poppy Martin who placed 3rd in the Year 5 Girls and to Delana Trask for making it to the BOP Champs. Well done to both girls, who run well and battled the cold weather in Opotiki. Many thanks to Grant Martin and Jo Trask for taking the girls down to compete.
Mini Marathon 2015
Swimming
Swimming 2015
Central Bay of Plenty 2015 - Swimming
Bay of Plenty 2015 - Swimming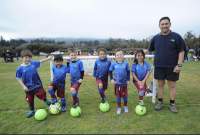 Gymnastics